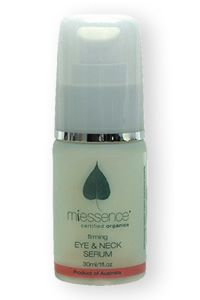 I am featuring this product because it is another of my personal favourites. I use it regularly and have honestly found the fine lines which are starting to develop around my eyes have visibly diminished. I am closing in on 40 (sounds scary when I read that because I still feel 20) and I guess it's starting to show when I examine the details in the mirror. Sometimes it surprises me not to see the young woman looking back but I'm starting to see her more often again since I began using this serum.
I have a friend also who just loves it! She uses it as a full face moisturiser though I've told her it's not meant for that and it won't last very long using it that way.
My bottle usually lasts me 4-5 mths using a squirt daily. It's very rich and you don't need much for just around the eyes and neck.
The Miessence range also includes: Rejuvenessence Facial Serum for tired, stressed, aging skin. I haven't tried it (though I probably should) so I can't tell you what it's like from my experience. If it describes your skin, try it yourself and let me know what you think!
For more information on the extensive range of Miessence certified organic products and to order online
More on Miessence certified organic
Firming Eye & Neck Serum
(crow's feet/ageing eye and neck area)

Softens, smoothes and deeply moisturises with organic rosehip seed and avocado oil and tones and firms with organic nettle, horsetail, hops and olive leaf extracts. Helps diminish the appearance of fine lines, wrinkles and crow's feet.
Why?
Serums lock in moisture and intensively nourish the skin. Use Firming Eye & Neck Serum to smooth, tone and firm around the eyes and neck (diminishing crow's feet, visible fine lines and wrinkles), while organic herbal extracts tone and firm the skin.
When?
After moisturising use Firming Eye & Neck Serum twice daily (am/pm).
How?
Because our product is ultra-concentrated, only a small amount is needed for optimum results! To use the Firming Eye & Neck Serum, pump a few drops into the palm of the hand, then using one finger, pat and smooth around the total eye area (from outer to inner eye), then gently pat and press remainder of concentrate onto throat and décolleté.
Ingredients
Organic aloe vera (aloe barbadensis) leaf juice, organic safflower (carthamus tinctorius) seed oil, organic avocado (persea gratissima) fruit oil, organic rosehip (rosa rubiginosa) seed oil, organic shea (butyrospermum parkii) fruit butter, organic sugar-cane ethanol, non-gmo lecithin, honeysuckle (lonicera japonica) extract, organic olive (olea europaea) juice extract, organic olive (olea europaea) leaf extract, organic nettle (urtica dioica) extract, organic horsetail (equisetum arvense) extract, organic hops (humulus lupulus) extract, organic Roman chamomile (Chamaemelum nobile) essential oil, organic lavender (lavandula angustifolia) essential oil, olive (olea europaea) leaf extract.