Project 40
2) Silver Birch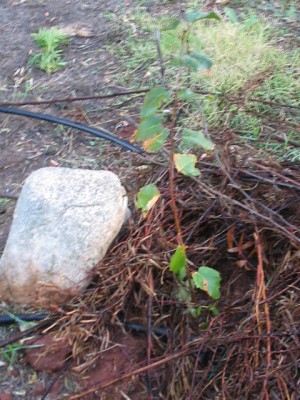 This is a beautiful, large growing deciduous tree. It is often grown for its white bark and colourful yellow autumn foliage. As the tree ages the bark at the bottom often becomes rough & black. These distinctive flecks of course, dark bark continue up the trunk spacing further apart as it gets taller. The bark makes this tree a particularly decorative addition to any garden.
It grows in moist well drained soil to a height of around 20m. Birch are fully hardy tolerating wind, sun & frost/snow.
Though not often used this way I believe the rising sap can be tapped and collected in spring like maple. It is then boiled, until it reaches the right consistancy, into a syrup similar to maple syrup. I would be interested in a proper recipe for birch syrup if anyone has it.
This is the second silver birch I have put into my garden. I look forward to them being of a size as to have a sence of presense and so I can give the syrup idea a spin.