Project 40
1. Buddleia Davidii.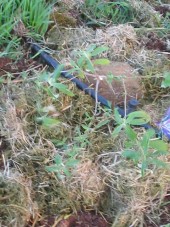 This is the first planting in project 40. Tiny isn't it.....but it will grow.
Buddleia Davidii is also known as the butterfly bush. Its fine tubular flowers and sweet perfume make it irresistable to butterflies. The leaves are long, lance shaped, dark green with soft velvety white undersides.
There are several varieties of buddleia which also have different colour and sometimes different forms of flowers. The colours of the buddleia davidii range from white through shades of pink, mauve, crimson & purple. Tiny individual flowers are massed together to form a spike on the end of the branch. It flowers prolifically from mid summer to autumn.
The bush is dense & leafy growing quite fast to approximately 3-5m high & wide. Buddleia Davidii is best pruned hard in spring. It grows in full sun and fertile well drained soil. It is deciduous (looses leaves seasonally) or semi-evergreen (may loose most but not all leaves).
I have planted this in a place it can grow to form a dense screen. In time it will be part of the wall of my 'secret garden'. I like buddleia's flowers, particularly the purple shades which I am hoping this is. I won't know until it flowers though, so it's a gamble. Attracting butterflies into the garden is a double edged sword. They are delightful to watch floating about the place and important pollinators, as are bees & many flies. Yet the catterpillars can be annoying as they defoliate some plants. Still, nature has a way of balancing things. The leaves grow back and often the plant is bushier as a result.