Plant Profile—Fennel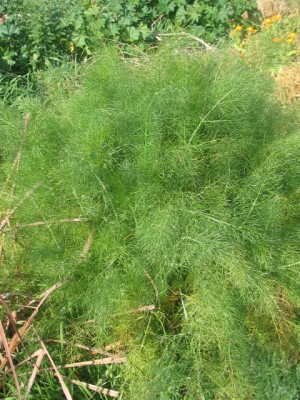 Florence Fennel
Fennel is a plant with a long history of use. It has been held in high regard by royalty & peasants alike for its fine aniseed like flavour and digestive aide qualities.
There are a few different varieties of fennel. The most commonly cultivated for the sweet tasty 'bulb' is known as 'Florence fennel'. In this variety the base of the leaf stalks take on a swollen bulb like form which can be eaten as a vegetable. It is often steamed and served with a plain white or cheese sauce.
Wild fennel is often seen growing in roadside ditches and moist places and on rocky untended ground. Whilst it can still be used for herbal teas, to flavour fish or sprinkled on salad it has a sharper taste than the commonly cultivated Florence fennel.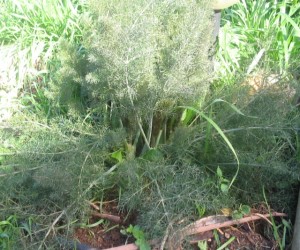 Bronze Fennel
There is also a purple form known as 'bronze fennel'. This is my personal favourite. Infused to make a herbal tea, the water is a greyish purple colour until a little honey is added. Then it becomes a vibrant reddish purple. Mmmmm delicious! It's good this way both hot & iced.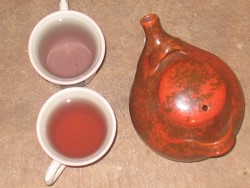 Fennel tea with honey (bottom) without honey (top)
All parts of fennel is edible; the seeds & flowering heads, the leaves, stalks, bulb & roots. It has a pleasant, fresh flavour like aniseed. It is used in many culinary dishes as both the primary food and as a flavouring and garnish to other foods such as fish.
The seeds of fennel & other herbs reknowned to soothe digestion are sometimes combined and served following spicy meals in India. Fennel is good to ease upset digestion, allay hunger and is often recommended for those wanting to slim. Chewing the seed will also freshen your breathe.
---
It is actually fennel which is used in Organic & Natural Enterprise (ONE) Group's 'anise toothpaste'. This is also my personal favourite of the three flavours of Miessence toothpaste available. The other flavours are mint & lemon.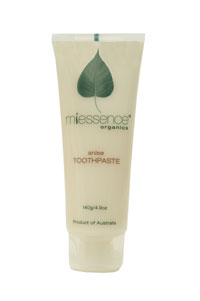 Anise Toothpaste
Cleanse and brighten your teeth with bicarb soda. Freshens your breath and maintains healthy teeth and gums. Miessence toothpastes do not contain fluoride, aluminium, artificial sweeteners or detergents.

Ingredients
Organic aloe vera (aloe barbadensis) leaf juice, purified water (aqua), sodium bicarbonate, non-gmo xanthan gum, sea salt, organic fennel (foeniculum vulgare) essential oil, stevia rebaudiana extract. 57% Organic Product. 100% Natural Product.
---