Suzee's No Fat or Sugar Chocolate Date Cake
This year I have made the commitment to myself (and now to you) to lose 15kg and to exercise daily. It's all part of my personal development program to achieve my ultimate goals. I've given myself until January next year to lose the weight so that it is a sustainably achievable goal. In reality I need to lose 25-30 kg to be down to the 'ideal' weight for my height but I can aim for the rest next year.
Consequently, I've made changes to all the family's diet as I am the 'chief cook and bottle washer' in this household. One of the simplest changes I've made was to invest in a deep non-stick frypan so I no longer use any oil or butter to grease the pan. When it comes to losing weight every little bit counts. I've also returned to my healthier eating days of very little fat and sugar. I avoid processed foods especially crisps, take aways & lollies. I drink plenty of water and have swapped my morning cocoa for green tea. I try to use organic food and fresh food from my garden as much as possible.
I also take In-Liven, a certified organic probiotic superfood, daily. I started my change of lifestyle (as opposed to 'diet' ) by doing a two week In-Liven cleansing. During this time I had one teaspoon in fruit juice or water three times daily. The reason for doing this is to replenish the intestinal bacteria which are essential for the absorption of nutrients from food and removal of waste products from the body. I figure that if my body is metabolising food better and I am getting more nutrients from the food I eat, I'll eat less and the excess weight will disappear quicker. In any case, I definitely feel healthier and more energetic than previously. Also my finger nails are stronger and growing without flaking and tearing as they used to.
So how am I going with my goals, you may wonder? Since I began on January 2nd I have lost 2.85kg (maybe a little more as I weigh in tonight). I have completed the exercises of the 'XBX plan for women' everyday, even when I stayed at a friends and was up until 5am! I'm on level six now. I've also been doing regular bike rides of 2-3km with my eldest daughter and swimming weekly with the other ladies of the weight watchers group. I guess you could say I'm on target. However, experience tells me it is no time to be complacent and fall back into old habits. These are new habits I am developing. Life time habits which will make me a better, healthier person able to succeed at acheiving all the goals I set for myself.
It's a difficult challenge I have set for myself especially as I love sweets and chippys. So that I don't feel deprived I make this no fat, no sugar chocolate date cake which is delicious. It's my own recipe, undoubtedly adapted from some where but I can't remember, so I guess it doesn't matter. I'd love to know what you think of it and if you also are undertaking a similar program for personal development. Drop me a note here.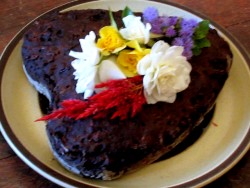 Suzee's Not Naughty Chocolate Date Cake.
Ingredients:
1.5 cups chopped dates
2 cups boiling water
1.5 cups plain whole grain flour (try different sorts eg. oat, barley, spelt etc You can expect a different sort
of result but it will still be tasty, I'm sure)
1 cup of all bran type of cereal
2/3 cup of cocoa powder (more or less to taste)
1 teaspoon cream of tartar
1 teaspoon bicarbinate of soda (or you could use baking powder instead of these two combined)
2 Tablespoons of protein powder (optional)— I use it because protein is an essential nutrient our bodies can't
manufacture and eating some protein with carbohydrate rich foods helps
maintain the balance of the blood sugars. This too can help with weight loss.
1 egg (also optional but useful to bind the cake well)
Method:
Pre-heat oven to 175° C ( 350° F).
Chop dates and cover with boiling water. Allow to soak, the longer the better but at least while you put together the rest of the ingredients.
Combine all the dry ingredients except the cereal in a sifter.
Put cereal into large bowl and sift dry ingredients over it. Stir it all together and make a well in the middle.
Crack in egg and mix a little before adding in the dates & water. Mix all ingredients together well until all wet.
Pour into a prepared cake tin*. It may be very thick. If it is too thick add a little more water before putting into tin.
Bake for about 40 mins or until a skewer inserted into the centre comes out clean.
This is quite a heavy cake as are all made with whole meal flours and bran cereals. If it is a drier type of batter the cake will be some what like a brownie in texture.
This cake is delicious hot or cold and could be served with custard or cream (but that would defeat the purpose of a no fat cake).
*Use non stick pans if possible otherwise a little oil spread over the surface and floured or coconut (but this will add fat). Have you seen those new silicone baking 'tins' suitable for use in ovens & microwaves? Pretty amazing if you ask me!